---
Timing system for climbing and firefighters competitions

Presentation video is available on DVD too.
Features

a great electronic timing solution for speed climbing and firefighters competitions
modular and flexible composition
independent or parallel races
very big, readable and attractive displays (a smaller alternative are available too)
strong and specialised software support with many inovative functions
many starting modes (momentary or delayed start)
possibility of simple standalone mode operation
three different counting resolutions
many accessories available
possibility of internet interaction with other users on distant locations all over the world
possibility of measuring reaction times
includes programmable countdown timers
competitive price
Product description
Our electronic timing system consists of physical part (unit with electronics, one or two display boards, accessories) and of software, which runs on your computer.
The customer gets "all in one": simple and robust, but very effective system for simple use without computer support, while connecting to the computer brings up benefits of all advanced features and functions.
Connection to the computer is made via robust industry standard RS232 (COM) port. An innovative internal communication procedure prevents user from unpleasant COM port settings, which are done automatically.

Many goodies as different operation modes, LOG file, Start lists importing, measuring of reaction times, stereo acoustic warning signals, many different starting modes, power saving modes, text mode... guarantees additional satisfaction for the customers who are thus able to personalize the system in many ways.
Software is created deliberately with ease of use in mind but not with sacrificed usability. The easy to understand graphical user interface is written in Slovenian, Croatian and English language at the time. Many original ideas were applied during designing process in order to get as usable product as possible. We are constantly looking for possible improvements for future versions and upgrades.
Order your free copy of presentation DVD and see detailed explanation about features of the system!
Customer support
We provide full support to our customers. We can install the system on your location, instruct you how to use it in all details and we are accessible by e-mail or phone to provide help to users at any time. We can deliver the product to any world location and provide detailed instructions on how to install and use the system.
Every single customer is important for us. We collect their remarks about functionality and try to take them into account for the future improvements and upgrades to make the system even better. The system can easily be upgraded and we provide the tools necessary for making upgrades by the customers on their own when needed.
We closely cooperate with our worldwide partners. We localize our product to meet special local requirements including special hardware demands, language support etc.

Partners
Our partners cover the following countries:
Netherlands, Belgium, Germany, Switzerland, Austria, Greece, Cyprus, Scandinavian countries and United Arabic Emirates: Vertigo
Croatia: Vatropromet
Asia: Motion Climbing
If you come from any non-specified country or in case of specific technical questions, contact us directly.
Pricing
Please contact your nearest distributor or us directly.
Specifications
Central unit
Internal counting resolution: 0.001s
Displayed resolutions: 0.01s, 0.1s, 1s (selectable)
Time measuring ranges: 10min, 100min, 10 hours
Temperature operating range: 0 do 40°C
Type of communication: RS232
Communication speed : 19200 bps
Dimensions: 13x13x5cm
Degree of protection: IP30
Displays
Segment height: 200mm or 100mm
Display format: 5 x 7-segments LED digits
Nominal viewing distance: up to 100m or 50m
Dimensions: 100x30x4 cm or 58x20x4cm
Weight: ca. 8kg or 5kg
Segments colour: red or green
Degree of protection: IP40
System requirements
PC compatible computer with operating system Windows 98 or higher
Graphical resolution: 1024x768 or more
Stereo sound card recommended
Serial communication (COM) or USB port with USB-serial converter
Power supply
Input voltage: 90 to 264 VAC
Power consumption: up to 80W
References
speed competition for youth categories, high school Šentvid Ljubljana, November 2009
"AO Rašica" competiton, high school Šentvid Ljubljana, November 2009, difficulty and speed
national high school categories competition, ŠKG Ljubljana, January 2010, difficulty
"West league" 2010, 1st race, ŠKG Ljubljana, January 2010, speed
Vanka Regule festival, island Brač, Croatia, July 2010
Johanov memorial 2010, Osp
World cup Eindhoven, June 2011
1. Dutch speed Contest, Breda, September 2011
Johanov memorial 2011, Osp
2. Dutch speed Contest, Breda, September 2012
Contact us for any additional information or presentation.
New: Free presentation DVD with all the details explained is available!
Climbing specific
Applications:
speed competitions - qualifications
speed competitions - finale
recreationally based speed climbing
boulders competitions
difficulty - lead competitions
plain text display mode
internet multimatching - parallel races between long distance locations
The most important climbing competitive
Qualification
and
Finale
modes provide full automatic and fluent managing of the competition with automatic summing and displaying the times on both speed tracks. In these cases our system is not just a timing machine, but it may really be called smart and friendly partner in timing.
The system supports many starting modes (momentary or delayed start), measuring of reaction times and it includes fully programmable Boulder and Lead countdown timers with warning sounds.


Our latest addition to the system is Internet multimatching feature. Up to five locations all over the world can connect together and realtime multimatch on IFSC approved speed routes may begin!
Join to 'Stopko' community and interact with other users of our system through the realtime Internet multimatching.
Download a brochure about Internet multimatching facility.


New: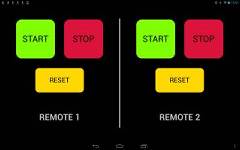 Install our Android application on your smartphone to control countdown timer in Boulders mode.
Download our climbing configurator utility * for easy configuring your specific timing system. Configurator includes on-line EUR price calculator (Internet connection is required to activate this feature).
* Just download and run the file to install it. It contains a clear graphical presentation of how our timing
system with many different options incorporates with climbing wall. Designed for Windows 98 or higher.
We guarantee that it contains no harmful code and that it does not offence your privacy in any way.
Firefighters specific
We have upgraded the product in cooperation with Firefighters Association of Slovenia and Croatia so it can be used for Firefighter's competitions too. Beside many other subjects we have developed the following devices or features:
Selfstanding Start/Stop button
Optical barrier for starting or stopping the counting
Sensor for detecting hitting of the target by water jet
Specific software support
A special power saving mode for battery powered applications
All Start/Stop peripherals can be freely combined at Starting/Finishing positions. Example: Start/Finish: buttons; Start: button / Finish: optical barries; Start/Finish: optical barriers etc.
We are challenged to find a proper custom solution for every specific user's demand under competing conditions. Give us a try!
Screenshot of the results collecting and sorting utility
New: Android application for collecting results
Use our
firefighters configurator utility
to interactively select your own configuration and find out complete prices. Configurator includes on-line
EUR price calculator
(Internet connection is required to activate this feature).
Gallery